Rentopos Rental Administration POS System PHP
>> Buy Now at discounted price while it's still available <<
Overview
Rentopos – is a rental management app that is used by equipment rental companies with a daily rental system
can be used to rent out various equipment for example
– Camera
– Video Camera
– Musical instrument
– Building equipment
– Cooking equipment
– a surfboard on the beach
– Boat
– Bicycle
– Scooter
and others
Rentopos project designed for offline management needs, we conducted research and found that rental goods management is a business run by a single user or individual business so that the database used is planted on one device.
A rental entrepreneur can rent out several item categories, for example the building equipment category such as diesel, drill, welding equipment Meanwhile,
Media Category can rent video recorders, camcorders, lighting, audio recorders, musical instruments and sound systems.Furthermore,
the entertainment and tourism industry can rent out transportation tools such as bicycles, scooters, surfboards
Rentopos will later use a local server using an app server such as xampp, apache appservwhich is embedded in the device owner.With the rentoposapp it makes it easy for business owners to manage their profits through profit from rental prices, print reports based on certain dates, predict potential profits and minimize losses
Please Read Documentation on link https://1drv.ms/b/s!Aho3I3Q0Jc…
The trial demo can be accessed from https://pos.barisandata.com
Email: [email protected]
Password: 1234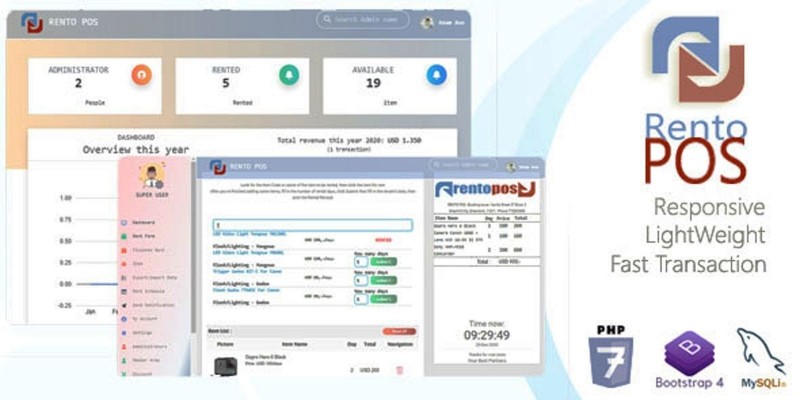 Free support
Future product updates
Quality checked by Codester
Lowest price guarantee
Features Rentopos:
Add many Item Category and unlimited item
Multiple Languages
Custom Currency
Custom timezone
Easy to Change Logo, icon, Store name, Contact and Store address
Can print on Thermal Paper
Print on A4 Paper
Multiple Administrator user level
Automatic save member area on transaction
Full screen mode
Transaction Live mode for Thermal paper View
For Local server:
Need Xampp or Apache appserv with Php and Mysql
For Shared Hosting or VPS:
Cpanel or Web Panel Support PHP 7 and Mysqli
This application system is Fully App management for cloud based and self-hosted (Not plugins for CMS), you can install it on your VPS, Hosting or webserver support PHP & MYSQL programs. You just have to install the full source and create an SQL database for data storage.
Please change the logo and application name according to your company name or your brand, there are installation and usage tutorials that help you understand how the whole works.
Tutorial, menu icon, language can change on Settings
Please change the logo and application name according to your company name or your brand, there are installation and usage tutorials that help you understand how the whole works.
Tutorial, menu icon, language can change on Settings
>> Buy Now at discounted price while it's still available <<