>> Buy Now at discounted price while it's still available <<
DO NOT BUY JUST YET, UPDATE ON THE WAY!
Help Desk PHP Script is a lightweight customer help desk support system that is built on the MVC model (ChewiMVC). This powerful script contains tonnes of professional, premium features that enable you to have a complete, lightweight support system without forcing you to splash out on expensive alternatives or alternatives that are far to big & complicated for your needs!
Purchase this script and get another FREE from my profile of your choice that is $15 or below! 👍🏼
---
New Update Coming Soon!

Remember some features are disabled in the demo!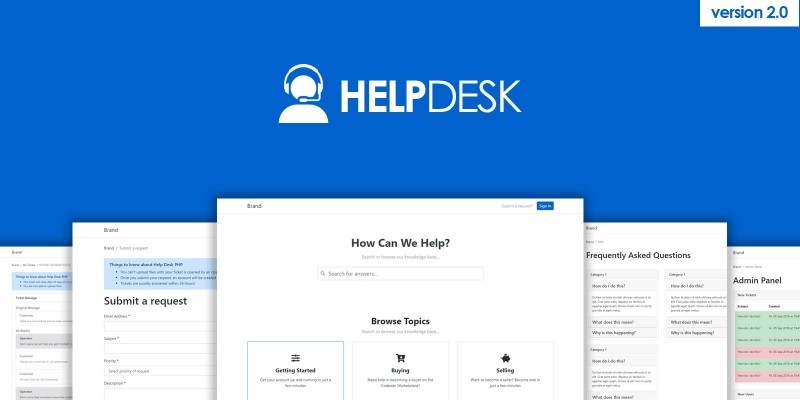 Built on ChewiMVC
Professional Help Desk / Support Center
Powerful User Management System
Secure Admin Panel
Bootstrap 4
Global Site Messages
Email Notifications (SMTP)
Custom Menus
Custom Branding
News System
Custom Dynamic Email Templates
Pagination
CSRF Protection
SEO Optimised Custom Pages
Unlimited Tickets / Requests
Unlimited Articles (Knowledge Base) / FAQ
Ticket Priority (High, Medium, Low)
Open/Close Tickets
File Attachments
Article & FAQ Helpfulness
Articles & FAQ Search
Articles & FAQ Categories
Server Status (Operational, Minor Outage, Major Outage, Maintenance)
Recaptcha
Translatable
Throttling Security (Reload page or submit forms too many times protector)
PDO Powered
… and loads more!
Upcoming Features
CHANGE LOG

✔️ = Done

//4 September 2017 v1.0
#Initial Features ✔️

//3 November 2017 v1.1
#Bug Fix with Customer Messages ✔️
#Bug Fix with Email Notifications ✔️
#Added File Attachment ✔️
#General Improvements ✔️

//24 September 2018 v2.0 (coming soon)
#Complete Rewrite (ChewiMVC) ✔️
#Support Ticket PHP Script is now Help Desk PHP Script ✔️
#Complete Redesign (Bootstrap 4) ✔️
#FAQ System ✔️
#Complete User Management System ✔️
#Powerful Search (Categories, Articles & FAQ) ✔️
#Knowledge Base ✔️
#Categories ✔️
#Email Notifications (SMTP) ✔️
#Simple Server Status ✔️
#Priority Feature ✔️
#Dynamic Announcements/News ✔️
#Dynamic Email Templates ✔️
#Improved Support Chat





key word

:

Scripts & Code